The best VPN router
Vilfo is a Multi-Gigabit VPN router that gives you full control of your network. Connect to 10 different VPN servers at the same time!
Why Vilfo?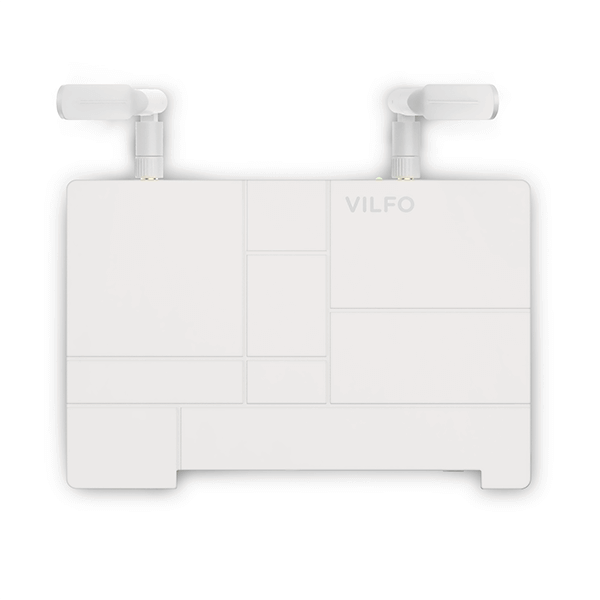 Loved by customers & VPN Providers worldwide
Users in over 60 countries trust Vilfo to protect their devices and provide stable and quick access to their VPN provider.
But don't take our word for it. Read what they have to say.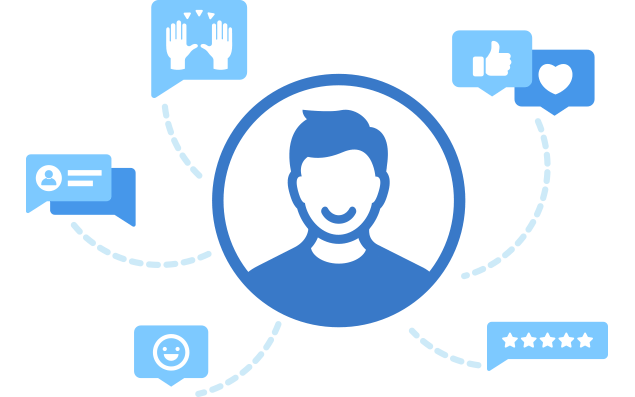 Any VPN provider
Vilfo's VPN router works with any VPN provider that supports OpenVPN. 25 VPN providers are already pre-integrated so you can just activate them by a single click. No configuration files required.
If your provider isn't integrated yet, you can upload their configuration files to utilize them. You can also ask your provider to contact us so we can integrate them.
How it works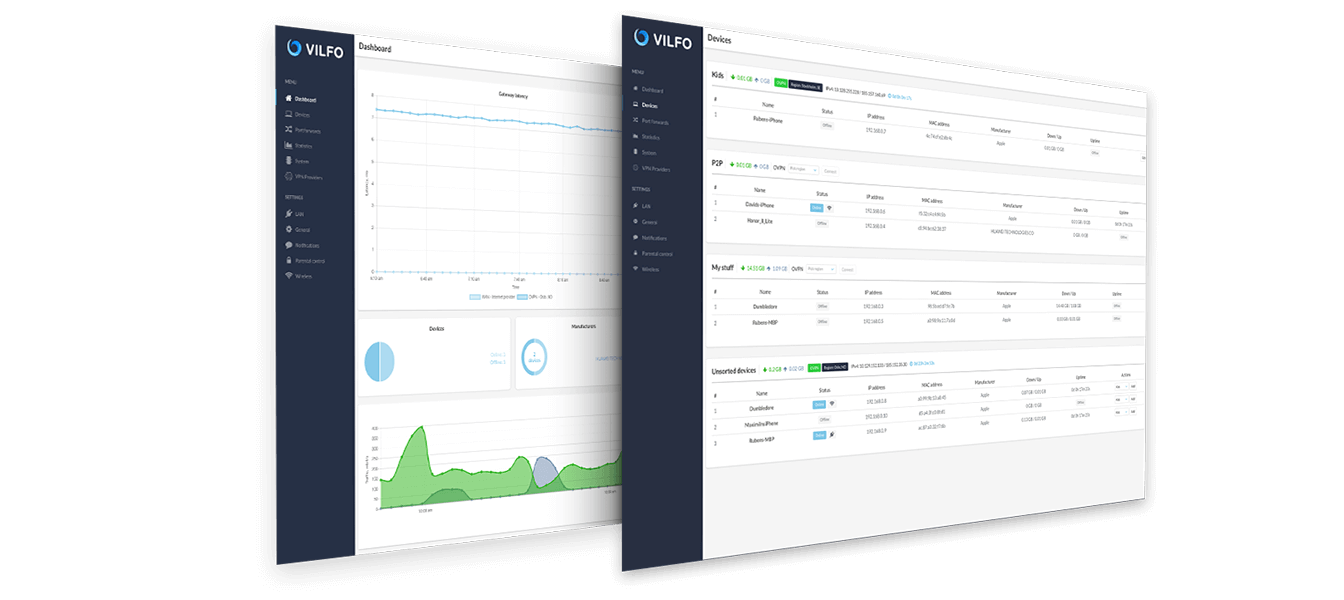 Different devices have different needs
Organize your devices into groups. For example: place your TV, Chromecast or Apple TV in a group that you connect to a USA server to access restricted streaming content.
Organize your NAS and IP-TV cameras in a group and connect them to VPN with a public IPv4 address so you can access them from anywhere.
Don't want to protect your PS4 or Xbox? Totally fine - just don't connect that group to a VPN server.
Keep track of your network
Which devices consume the most bandwidth? Which group of devices do? When is the bandwidth consumed?
How is the latency to your ISP? How is it to your VPN provider? And how does the latency change depending on time? How many hops is it to your VPN providers servers?
Our guess is you don't know the answer to any of these questions right now. Get Vilfo and you will.
Order Vilfo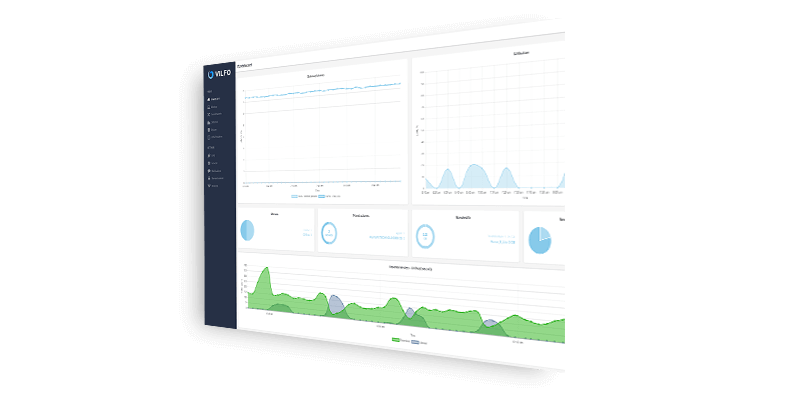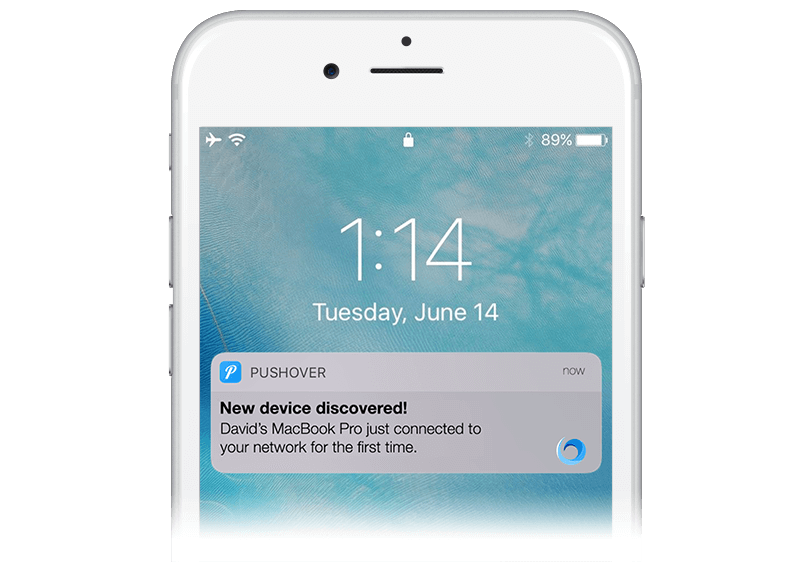 Know your network
Keeping track of activities isn't the only important part. Get alerts right to your cellphone for key events that occur.
Know which devices connect to your network
If a connection to a VPN servers drops
Power outage? Get an alert when Vilfo is powering back on
Before shutdown, Vilfo will send you an alert
Firmware updates
Vilfo provides a bunch of insights into your network.
The Vilfo extension makes your life easier
Available for Chrome & Vivaldi. Coming soon to Firefox.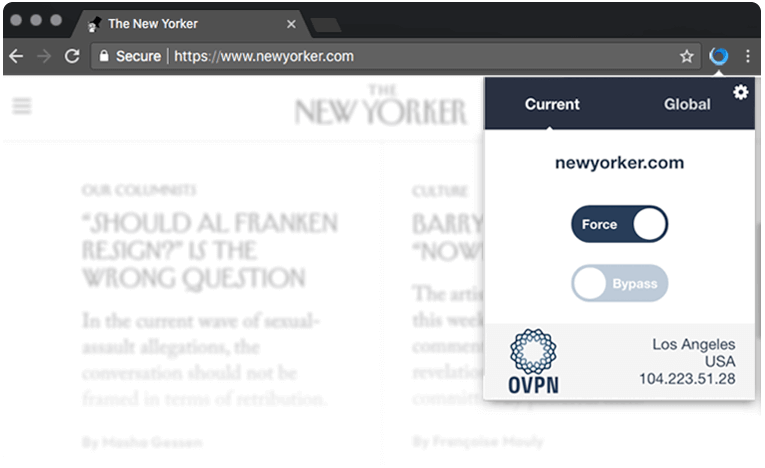 Force VPN
Make sure you don't visit websites without being connected to your VPN provider. By forcing VPN for a website, all requests to that website will be blocked unless you're connected to a VPN.
Bypass
Has Netflix blocked your VPN? That's fine - now you can make Netflix use your ordinary internet connection without disconnecting from your provider. Only traffic to their IPs will go through.
Safe
Anyone in your house can download the browser extension. Rules are per device, so if someone decides to bypass a certain website it only affects them.
Technical specifications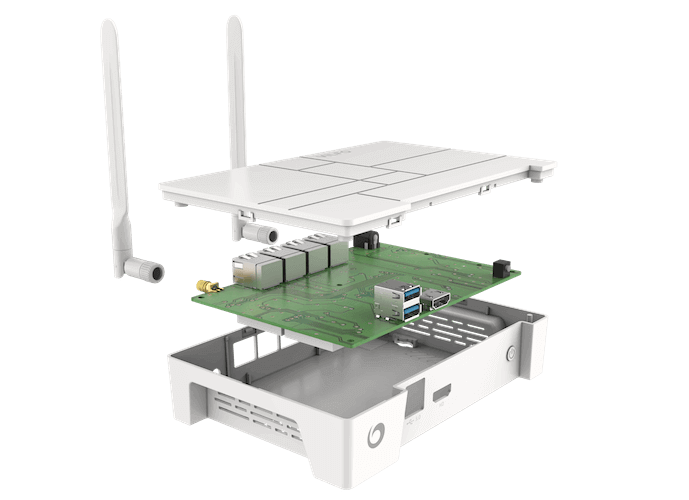 Components
Intel® Celeron
Wifi: MT7612E
WAN: 1 x 1000 Mbit/s
LAN: 3 x 1000 Mbit/s
2 GB DDR3 1600 Mhz RAM
8 GB SSD
Measurements
Height: 42mm / 1.65in
Width: 180mm / 7.08in
Depth: 120mm / 4.72in
Wireless
802.11ac (Max 867 Mbit/s)
8 dBi antennas (2T2R)
2.4Ghz or 5Ghz WiFi
Already have a good router?
Vilfo is the go-to router for privacy online and fast encryption speeds. However, there are routers that have better wireless connectivity.
If you have a router with great wireless connectivity, change its settings to work as an access point and then connect it to one of the LAN ports to Vilfo.
That way, you'll get the best of both worlds.
Order Vilfo