Why set up VPN on a router?
Having a VPN router is a clever, quick and comfortable way to ensure that every device in the network is secured.
Protect as many devices as you want
Saves time
Protect devices that normally don't have VPN support
Never forget to connect
Access your home network from anywhere
Use split tunneling
Order Vilfo for $379
VAT will be added for EU customers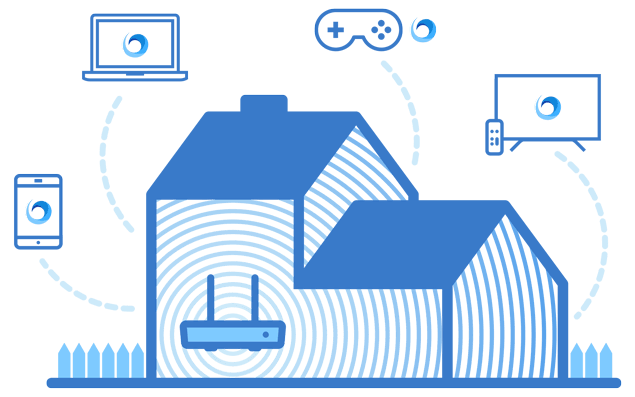 Eight reasons for purchasing a VPN router for your home
Protect everything
VPN providers typically limit the maximum number of devices you may have connected at the same time. With Vilfo, you can exceed that limit. Every group you connect will count as one device for your VPN provider - regardless of how many devices you have in that group.
With a VPN router, you can even protect devices that normally don't support VPN software, like PlayStation, Apple TV, and other gaming or streaming consoles. If it has internet, Vilfo can protect it.


Powerful
Ordinary routers aren't built for VPN connections. The CPU is too weak to handle the encryption properly and as a result you will experience severely reduced internet speed. Vilfo is different.
Vilfo has powerful hardware tailor-made to speed up VPN connections. This allows you to stay secure online while still reaching speeds up to 600 Mbit/s fully encrypted.
Split tunneling
Almost no VPN provider offer split tunneling to their customers. With Vilfo, you can control exactly which websites you visit should be behind the VPN connection and which shouldn't.
You can even bypass ports that your online games utilize to maximize your performance while still leaving all other traffic protected by your VPN service.


Streaming via game consoles or Smart TV's
While some VPN providers have developed their own software for most operating systems, not every device out there have support for VPN connections.
If your VPN provider doesn't have a VPN client for your platform — or if you want to use your VPN on a gaming console, media player or smart TV — then your only option is to use a VPN router.
Convenient & simple
No need to install software on multiple devices to protect them. With Vilfo, VPN is not an afterthought; it's been the cornerstone of the entire development process and has been meticulously built and designed to make every step of the way as easy and secure as possible.
If a VPN connection goes down, Vilfo automatically reconnects to the VPN server as soon as it's available again - ensuring that you're always protected. You can relax while Vilfo works.


Access your home network from anywhere
You can run your own VPN server on Vilfo which allows you to securely access your home network from anywhere in the world.
Access your IP cameras, IoT devices or NAS securely without having to expose them to the internet and hackers.
Intuitive interface
Connecting to any VPN provider is easy with Vilfo. All pre-integrated VPN providers' regions are updated daily so you can connect to all of their regions.
We promise that you've never seen a more intuitive and easy-to-use router interface than Vilfo's.


Insights
Besides simply being a powerful VPN router, Vilfo gives you significant insights into what happens in your network.
You can get push notifications on important events, see real-time bandwidth, event history as well as historic bandwidth usage for every device.